Deep groove
Rod End Bearings
are the most widely used type of ball bearing in the world. This is because of its versatility and overall performance. They feature very deep raceway grooves where the outer and inner rings have slightly larger radii than the balls. They also have an inseparable ring. They are well suited for high radial load capacity and high speeds, and can withstand axial loads in both directions. Angular contact ball bearings In this type of ball bearing, the straight line connecting the outer and inner ring balls has radial fixed angle (contact angle). This angle is generally designed with three different contact angles.
Rod End Bearing 0E6B0275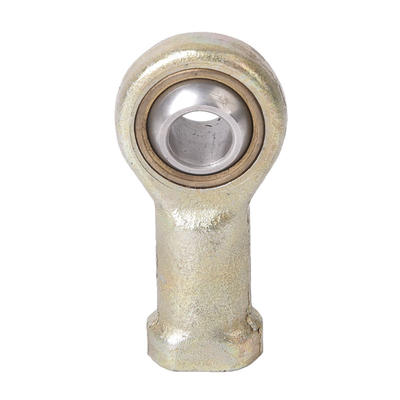 Rod End Bearing 0E6B0275
These bearings can accommodate axial loads, but must be used in pairs or combinations, as the contact angles cannot be used alone. Self-aligning ball bearings Self-aligning ball bearings consist of double-row balls guided by a double-row inner ring raceway and cage. They also contain special features for the continuous spherical outer ring, allowing the inner ball/ring complement to rotate within the outer ring. This type of bearing is recommended when the alignment of the shaft and bearing presents an issue where the shaft may skew.
Spherical roller bearings are better suited to absorb these radial forces. Double Angular Contact Ball Bearings These bearings pair two or more angular ball bearings in series, back-to-back or face-to-face. Face-to-face (DF) or back-to-back (DB) double bearings can accommodate axial loads in both directions. Back-to-back duplex bearings can handle more moment loads than face-to-face duplex bearings. Tandem dual-phase bearings are more able to withstand axial loads than single-direction single bearings.
Four-point contact ball bearings These bearings feature a unique design in which the inner ring is split in half, creating four points of contact. It is located between the ball and raceway under radial stress, hence the name "four-point contact". Therefore, these roller bearings can withstand axial loads in both directions as well as a mixture of radial and axial loads. These bearings are able to withstand higher load capacities and harsher environments than angular contact bearings. They are best for heavy objects that swing a lot.